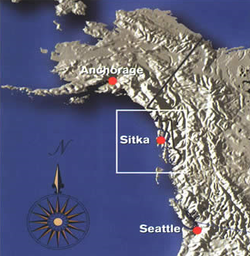 Our breathtaking sea-side community is just waiting to be explored and enjoyed!  Rich with culture and history, Sitka offers many entertaining activities for travelers of all ages.
Sitka is thought to be the most beautiful of the Southeast Alaska cities. Nestled on the west side of Baranof Island, it is flanked on the east by majestic snow-capped mountains, and on the west by the Pacific Ocean.
Our climate is mild and we do get our fair share of "liquid sunshine"!  Our most valuable resource is, without a doubt, the people of Sitka, who share a pride in their home and a love of life in all its small-town splendor!
Boating, fishing, hunting, hiking, wildlife viewing, beach combing, historical exploration, shopping and dining on locally sourced food are just some of the great adventures you can have in Sitka.
For more Sitka info please visit the Sitka Convention and Visitors Bureau or view Sitka videos on the City of Sitka website.